Our Female Cats
​



​Sugarcubes Tory of Kelskits

​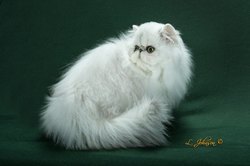 Shaded Silver Persian

​Beautiful shaded silver girl from Germany. I fell in love at first sight when going there to buy a boy. So grateful for Jen and Elke in allowing me the blessing of becoming her pet parent.



CH Silverestate Jubilee of Kelskits



Shaded Silver Persian

We are so happy to have been allowed to love this beautiful girl from Kathy Zennaiter at Silverestate. She has the adorable meow from her mam, Keepsake. My husband truly now has his favorite lap cat! Kathy's cats have amazing personalities!!!!



CH Jobez Jenna of Kelskits



Chinchilla Silver Persian

This girl boasts a pronounced, fluffy coat and produces that in her babies. She is the largest female that I have ever had and am so pleased to have her. She averages 10 to 12 pounds and I am hoping to produce larger silvers. Thank you so much Joan for this beautiful girl! DNA PKD tested negative.






CH Kelskits Charmmy Kitty
Shaded Silver Persian

We named this precious baby Charmmy Kitty. That name is the baby kitten from Hello Kitty's that is a long haired Persian. She has the phenomenal personality from her mom Punki. She meows like a little baby. Parents were tested negative for PKD.






CH Kelskits Snowflake

Shaded Silver Persian

This sweetheart we fondly call "No No'. As a kitten she was quite the character and was extremely curious....need I say more? She is from CH Jobez Jenna of Kelskits and Casper. Parents and grandparents were DNA tested negative for PKD.







CH Dalee Starburst of Kelskits
Shaded Golden Persian

We just championed this beautiful girl! Special thanks to Barbara Whitman for allowing me to have such a phenomenal girl! She has unbelievable eye color which looks even better in person. This is my exciting adventure into breeding and showing the gorgeous golden Persian. Parents tested negative for PKD.